Involving People
and Communities
2020-21
For the people of Cheshire and the local NHS, 2020-21 was a year like no other – presenting unprecedented challenges that none of us could have envisaged.
Despite coming together as a new organisation during the early Coronavirus (COVID-19) response and spending much of the year co-ordinating the county's efforts to protect local people from COVID-19, NHS Cheshire Clinical Commissioning Group's commitment to involving local residents remained undimmed.
Of course, almost overnight, the restrictions we all experienced during 2020-21 made traditional methods of face-to-face engagement nigh-on impossible. But it also presented opportunities for innovation, closer working with health and care system partners and the adoption of new technologies and ways of working – many of which have helped us reach new audiences.
Supported by our Governing Body Lay Members with a dedicated focus on engagement, our commitment to equality, inclusion and tackling health inequalities was right at the forefront of our work and our response to COVID-19.
​
At NHS Cheshire Clinical Commissioning Group we're really clear with our staff that engagement is everyone's business. Our organisational values ensure that our standards of care, courage, compassion and challenge are met with every interaction with NHS partners, local authorities, stakeholders, the people of Cheshire and those who access local health and care services.
​
But it's also about engagement with a purpose to ensure that residents' views are fundamental in shaping our work and decision-making. Involving people and communities in our work isn't always easy and can take time but – done well – enables us to improve patient safety, patient experience and health outcomes as well as supporting people to live healthier lives.
Dr Andrew Wilson
Clinical Chair
Clare Watson
Accountable Officer
Ensuring your voice is heard
The people of Cheshire are right at the heart of everything NHS Cheshire Clinical Commissioning Group does. The only way we can plan and buy healthcare services that the people of Cheshire really need is to involve the people of Cheshire in our work.
​
That's why, in 2020, we commissioned an independent audit of our approach to embedding the resident voice in the commissioning cycle – to scrutinise our approach to patient and public involvement, securing "substantial assurance". This means the CCG has the right processes in place to consistently ensure that your views are central to our work.
​
In addition to the work of our dedicated Communications and Engagement Team, we work alongside people with lived experience via our programme teams who are right at the heart of a wide range of programmes of work involving people with lived experience.
Did you know - in 2020-21 we responded to:
1,033
Direct patient and stakeholder contacts including
566
Patient Advice and
Liaison enquiries
200
COVID-19 vaccination enquiries
Reaching our communities in different ways
While the pandemic undoubtedly impacted on our plans to involve residents in 2020-21, our ongoing commitment to reaching communities across Cheshire in the most convenient way for them enabled us to adapt quickly when COVID-19 struck.
​
We quickly established daily briefings to support staff, GP colleagues and health and care system partners in their interactions with friends, family members and patients about COVID-19. We were also proud to be the first CCG in the North West in 2020-21 to broadcast our public Governing Body meetings, enabling interaction with attendees during dedicated public question and answer sessions.
​
Digital channels such as our website and social media platforms became increasingly important as sources of trusted information during lockdown and the COVID-19 response. In 2020-21 our channels achieved more than 1.3m Twitter impressions, 3.2m Facebook impressions and 50,000 LinkedIn impressions.
​
In May 2020 we became the first CCG in England to launch its own TikTok channel to help us reach new audiences and, to further diversify our engagement, we developed a range of "talking heads" videos for use across CCG platforms and by health and care partners – supporting Cheshire to speak with one voice.
​
Traditional media coverage was also achieved, helping us to ensure that important mass communications – such as key COVID-19 updates – were as visible as possible to the people of Cheshire.
Examples of our partnership work in 2020-21 include:
---
Co-ordinated Cheshire's communications and engagement response to COVID-19 and the COVID-19 Vaccination roll-out




Supported the Cheshire East and Cheshire West Integrated Care Partnerships to engage at Care Community-level




Collaborative approach to engaging with marginalised and vulnerable groups




Leading role in the multi-agency Mental Health Partnership Board – chaired by our Executive Director for Strategy and Partnership




Supported the development of the Cheshire East Place plan and with clinical engagement on hospital models of care review




Overview and support of three Maternity Voice Partnerships across Cheshire

Oversight and management of the Cheshire's COVID-19 Co-ordination Centre




Supported the design of a green social prescribing approach across Cheshire




Founded the Live Well for Longer Engagement Group to support joint commissioning and strategy development
---
---
To maximise the impact of our work to involve local residents in 2020-21, we worked closely with health and care system partners including GP practices, NHS trusts, local authorities, Healthwatch Cheshire and community sector organisations.
Cheshire's health and care partners have arguably never worked together as closely as they did through 2020-21 – brought together by the common aim of protecting people from COVID-19.
Engaging with minority communities and our most vulnerable
Ethnic communities
---
Cheshire, Halton and Warrington Race and Equality Centre (CHAWREC) recruiting community connectors to share translated information and gather insight into vaccine hesitancy

Pathways CIC engaged in Cheshire East to reach out to Eastern European communities through a network of connectors and social media messages in their first language

Insight gathered from the work with Eastern European communities used to inform national public health messaging

Working with large employers and recruitment agencies to encourage Eastern European workers to take the vaccine

Faith sector engaged to address vaccine-hesitant cultural concerns

Text messaging and letters to digitally-excluded communities
---
Marginalised communities
---
Healthwatch working in collaboration with the River Chaplaincy to engage with Cheshire's boating community. GP Access cards used to support residents of no fixed abode to register with a GP

Cheshire's Gypsy and Traveller Liaison Officers sharing key messages and videos via WhatsApp community groups, undertaking lateral flow tests and engaging with the community to discuss the vaccine. Clinical Directors working with Gypsy and Traveller Liaison Officers and community services teams to vaccinate traveller communities

Local Gypsy and Irish Traveller support group commissioned to work with the community to create videos and picture-book style information leaflets for those who find reading a challenge

Farming Community influencers identified to support messaging to this community

Working in partnership with Reaseheath Agricultural College to engage students from rural communities as local influencers
---
Learning disabilities or autism
---
National resources tested with people with learning disabilities or autism to determine the most appropriate assets to use

Cheshire Disability Access Forum providing information and reasonable adjustment care plan

Adjustments made at vaccination hubs to accommodate needs such as quiet spaces and numbing creams for needle phobia. This was supported by a video in simple language to explain what to expect at vaccination centres
---
Mental illness
---
Staff toolkit developed to support visits and online conversations

Messages shared from Clinical Director, lead nurse and pharmacist
---
Homelessness and rough sleepers
---
Health Protection and homelessness teams providing access to a COVID-19 vaccine for local people experiencing homelessness and rough sleeping – including "couch-surfers" and those in hostels

Foodbanks and homeless centres providing vaccination information

Community sector organisations helping to identify the most appropriate locations to vaccinate people
---
Asylum seekers
---
Worked with housing providers to identify additional locations where homeless people live to ensure they were offered a COVID-19 vaccination

Worked with the Asylum Seekers and Refugees Partnership Group to ensure key messages were shared about the COVID-19 vaccine
---
Young People
---
Pathways CIC engaged to recruit young people to develop messages and gather insight from people aged 18-30
---
Maternity
---
Focus Group held in partnership with Healthwatch to understand concerns of women of childbearing age about pregnancy, fertility and contraception

Videos produced by clinicians to address concerns
---
---
COVID-19 brought into sharp focus the disproportionate impact of the pandemic on some of the most vulnerable people in our communities.
​
Ahead of the roll-out of the COVID-19 vaccination programme, a number of groups were identified as being especially vulnerable to serious illness, hospitalisation or death – including those who may not typically engage with mainstream health and care services.
​
Local insight led to a targeted engagement approach – co-ordinated by NHS Cheshire Clinical Commissioning Group – which included:
Aligned to our priorities, NHS Cheshire Clinical Commissioning Group developed, co-ordinated and supported a wide range of behaviour change campaigns throughout 2020-21 to support better health and better care for the people of Cheshire.
​
Examples include:
​
Help us Help You – Reassurance campaign during the first lockdown of 2020 to advise anyone who needed care to come forward as health and care services, including Cheshire's GP practices, remained "open for business" (related infographic below).


NHS 111 First – Awareness-raising campaign around the introduction of NHS 111 First by Cheshire's hospital Trusts. Timed appointment slots are now available at A&Es across Cheshire for people with urgent, but non-emergency, health issues.


Winter and flu – Multi-media campaign centred around encouraging people to get their flu vaccination. Of the nine CCG areas across Cheshire and Merseyside, Cheshire was top of the vaccination league table for 10 of the 12 cohorts of eligible people - and second in the other two.


#LetsGetVaccinated – High-profile regional COVID-19 vaccination campaign which spreads positive messages via ethnic community leaders.


International Nurse's Day – We encouraged the people of Cheshire to "shine a light" to mark International Nurses Day to recognise the extraordinary work of nurses in the fight against COVID-19.


Mental Health Awareness Week – Chris Lynch, one of our Governing Body Lay Members, fronted a powerful campaign themed around kindness.
Throughout the COVID-19 response Cheshire's GP practices responded to your healthcare needs.
From April 2020 - March 2021 there were:
1.3m
Telephone and video appointments with General Practice
13.8m
Prescriptions issued
1.37m
Face-to-face appointments in General Practice
45,627
Appointments scheduled
or cancelled using an
online service
50,227
New patients registered
815,893
Prescriptions ordered using an online service
43,185
New 'online patients' registered for at least one online service
52,057
Referrals processed
109,028
Patients registered to access their records online
Case study 1 - COVID-19 Vaccination Programme
---
From the moment it became clear that a viable COVID-19 vaccine was likely to be approved for use in England, intensive engagement and communication planning was led by NHS Cheshire Clinical Commissioning Group with a single core aim – to ensure the people of Cheshire had the information they needed to come forward for a vaccination with confidence when it was their turn. Working with colleagues across the health and care system, we developed and regularly updated a single central webpage of trusted information and co-ordinated weekly meetings with communications and engagement specialists across Cheshire. Together, we worked to ensure Cheshire spoke with one voice to help remove barriers to vaccination. Early highlights included high-profile media coverage of the first person to receive the vaccination in Cheshire – 92-year-old Mona Thomas at the Countess of Chester Hospital – the launch of Cheshire's first GP-led vaccination services in Winsford and Frodsham and shining a light on the vital role of volunteers. To support the significant expansion of the vaccination programme in early 2021, we co-ordinated video footage and patient testimonials at every one of Cheshire's GP-led vaccination centres and established a regular rhythm of briefings to share progress updates. Less than 10 weeks after the first jab was administered in Cheshire, the county was confirmed as the best in the North West for vaccinating the top four priority groups. Our January 2021 Governing Body meeting included a dedicated interactive public question and answer session about Cheshire's COVID-19 Vaccination Programme, with subsequent targeted webinars aimed at tackling barriers to vaccination. Local insight by Healthwatch Cheshire revealed that concerns about fertility were particularly prevalent among women of child-bearing age. To address these concerns, local clinicians and fertility experts supported "talking heads" videos targeting people aged 16-35, while we also engaged with specific targeted groups including Sure Start, Maternity Voices Partnership, Motherwell and online groups. Translated and easy read resources were used to reach into Cheshire's minority and ethnic communities alongside "trusted voices" videos – led by clinicians and community leaders in multiple languages. In March 2021, this was built on via consistent support for the regional #LetsGetVaccinated campaign.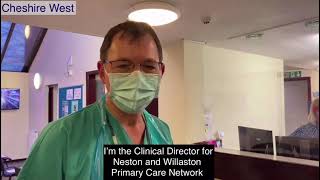 ---
Case study 2 - Cheshire Chat
---
Cheshire Chat is the name of our public engagement events in which senior leaders and members of our programme teams engage with members of the public around specific issues or areas of commissioning work. In 2020-21, we moved quickly to switch these events to an online platform to ensure we could continue to hear from local people and communities. We were one of the first CCGs nationally to engage with local communities online following the start of the COVID-19 pandemic – as reported by the Consultation Institute and in the NHS England Engagement Practitioners and Future Focused Finance journals. Open to anyone and everyone, in 2020-21 our Cheshire Chat events covered topics including COVID-19, Primary Care, Cancer, Mental Health, Community Services, Care Homes, Prescribing and NHS 111 First with panelists including members of our executive team, medical directors, clinical leads, programme teams and our Head of Urgent Care. We follow up every Cheshire Chat event by circulating resources including presentations, detailed question and answer documents and bitesize recordings of the event, as well as publishing them on our dedicated Cheshire Chat webpage. Cheshire Chat sessions throughout 2020-21 enabled us to understand how the work we do across Cheshire impacts on our communities.
---
Case study 3 - Insight and Intelligence
---
In order to plan and buy the healthcare services that the people of Cheshire need, we constantly evaluate patient feedback from a wide range of sources – cross-referencing feedback received via our Patient Experience and Communications and Engagement teams with data from local NHS organisations, Healthwatch Cheshire and others. Since April 2020 NHS Cheshire Clinical Commissioning Group has produced comprehensive Insight and Intelligence Reports every four months to ensure patient feedback is systematically collated and shared with senior leaders and clinical leads. This rich source of real-time patient feedback is also shared with commissioning teams to ensure the patient voice remains right at the centre of our decision-making. Designed to reflect the diversity of the local population, the reports help to influence every stage of the commissioning cycle.
---
---
Launch of NHS Cheshire Clinical Commissioning Group

Launched virtual Cheshire Chat public engagement sessions

Worked quickly to ensure all meetings in public remained accessible - via online platforms

Launched Help Us Help You campaign to encourage people to continue to access health and care services

Co-ordinated survey of health and care partners to learn lessons from initial COVID-19 response

Became first CCG in England to launch its own TikTok channel to help us reach new audiences

Engaged with patients in Northwich around changes to the Wound Care Service
Marked NHS Birthday

Held virtual Maternity Focus Groups involving hospital Heads of Midwifery and Maternity Voice Partnership Chairs to listen to local families about their experiences of maternity services across Cheshire

Cheshire Chat event including hints and tips around face coverings

Public engagement focused on our Engagement and Communications strategy

Worked with partners on digital inclusion and literacy

Staged virtual Annual General Meeting including public question and answer session
Cheshire Chat event covering Primary Care, a day in the life of a GP and the winter campaign

Engagement focused on head and neck cancer services for patients referred into East Cheshire NHS Trust

Led stakeholder and primary care NHS 111 First webinars

Re-established CCG reader's panel

Co-ordinated communications and engagement approach around Cheshire's COVID-19 Vaccination Programme
Supported Local Authority colleagues with communications support following flooding in Northwich

Promoted vaccine confidence via unique films for each of Cheshire's GP-led COVID-19 vaccination centres

Held public COVID-19 vaccination programme question and answer session as part on January 2021 Governing Body

Raised the profile of the vital role of volunteers in Cheshire's COVID-19 vaccination programme

Supported high-profile #LetsGetVaccinated campaign to help increase vaccine uptake among ethnic and minority communities

Supported webinar aimed at creating local care community steering groups in Cheshire West

Supported Healthwatch Cheshire at focus group with young women regarding the COVID-19 vaccine and fertility concerns
It is crucial for us to be open and transparent about how your opinion and feedback helps to inform our work.
​
The graphic below, developed following a series of public discussions and workshops, simply illustrates the many ways feedback is received and how it helps to inform and influence our work.
You wanted an increased focus on person centred care
More virtual consultations where appropriate. More than 900,000 virtual appointments were delivered to support our local population throughout lockdown and the pandemic response. Dedicated social prescribing in place to support carers.
You wanted shorter waits for hospital appointments
Implemented NHS 111 First, enabling access to timed appointments in A&E. Temporary blood testing community hub models implemented from October 2020. Established ophthalmology services in the community.
You wanted to reduce the reliance on emergency and urgent care
NHS 111 consistently promoted as the best starting point for people with urgent, but non-emergency, health issues. Dedicated Care Home Practice established in Chester, providing consistent support to 927 residents in 15 care homes. People living in Care Homes are now allocated a dedicated GP as a single point of contact.
You would like to see more promotion of self-care to manage the health needs of the local population
Continued to progress the roll out of the Self Care Awards across schools, colleges and workplaces in Cheshire. Working with our self-care champions enabled us to reinforce and amplify important health messages – particularly around COVID-19 and vaccinations.
You would like to see improved support for people living with serious mental illness care in the community
24/7 mental health crisis helpline introduced in April 2020, providing a single point of access for local people in crisis – at the time they need support the most. More people with severe mental illness in Cheshire are also being supported to receive regular health checks.
You wanted to ensure there was access to support for children and younger people who need help
Mental Health Support Teams established in a number of schools across Crewe and Ellesmere Port. Young people now supported by dedicated mental health teams, easily accessed while at school.
You want to see better health outcomes for people with learning disabilities and / or autism
Supported people with a learning disability and / or autism via dedicated time with a GP, enabling early identification of health conditions. Just supporting people with a learning disability and / or autism to visit the doctor – a daunting experience for some – helped to build confidence ahead of the COVID-19 vaccination roll-out. National target for health checks achieved.
You want to see Autism Awareness training to support care home staff
Enhanced training now in place across the health and care workforce, with a particular focus on GP practices.
Maternity Voices Partnerships are key to supporting maternity services in Cheshire
Funding secured to continue to support three successful and vibrant Cheshire Maternity Voice Partnerships.
In 2021-22 we plan to build on the lasting legacy of stronger partnerships with our communities - including the most vulnerable and marginalised - developed during the COVID-19 response. This will include establishing even stronger engagement links with health and care system partners and connecting with more community groups and forums.
​
This is not about developing additional forums or groups but about listening, supporting and reinforcing our strengths in connecting a 'network of networks'.
​
Harnessing digital engagement
​
The move to online platforms necessitated by COVID-19 brought many benefits in terms of public engagement. We plan to develop further options that support engagement to run alongside Cheshire Chat - ensuring we engage on meaningful topics in line with local priorities and commissioning intentions.
​
Supporting our two "places" – Cheshire East and Cheshire West
​
We will continue to support the two "places" in Cheshire and be a driving forcing in ensuring that all partners continue to work to a common purpose. Through collaborative communications and engagement we can continue to involve residents in shaping the future of health and care.